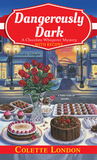 Dangerously Dark
by
Colette London
My rating:
4 of 5 stars
I received this uncorrected e-book copy from Kensington Books via Net Galley for an honest review.
Dangerously Dark
is my first
Colette London
book, but it will not be my last.
This book has a unique protagonist, Hayden Mundy Moore who is an expert on all things Chocolate - she is a Chocolate Whisperer. In her thirties she is a woman who may never settle down in one place or with one companion. She is not skilled in martial arts or an expert at crime detection, but she does get caught up in the drama of murder and mayhem trying to help out an old college friend.
This story has all of the elements that make a novel fun; it takes place in Portland, Oregon, centers on food artists who do Chocolate treats which surpass my chocolate loving imagination.
There is suspense and many twists that keep the reader from guessing "who-done-it" and/or if there was truly a murder in the first place.
"Dangerously Dark" makes me want to visit Portland, and I will ever be on the lookout for the chocolate beverages, beers, smoothies, and other amazing ways to stack and manipulate chocolate. I think I dreamed about chocolate treats one night before finishing the book.
The final goody is that Haley Mundy Moore finishes off this tale with a few AWESOME recipes for chocolate perfection; like "Chocolate Sugar Toast." I will treasure what I learned about chocolate and definitely be on the lookout for future books by
Colette London
Content: Violence - Inferred and subtly done.
Sexual - Inferred.
View all my reviews