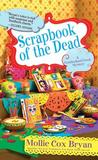 Scrapbook of the Dead
by
Mollie Cox Bryan
My rating:
4 of 5 stars
I received an uncorrected, advance reader, e-book copy of "Scrapbook of the Dead" by Mollie Cox Bryan, from Kensington Books publishers via Net Galley for an honest review.
Scrapbook of the Dead
by
Mollie Cox Bryan
was a pleasant surprise for me. My vision of scrap-booking used to equal that of cat-herd collecting; a hobby for bored and lonely old ladies. This mystery was a slap in the face to my preconceived notions.
"Scrapbook of the Dead" is a series of stories about an interesting town and various residents of Cumberland Creek. This is fifth in the series, but stands-alone well. This is my first Mollie Cox Bryan book, but will not be my last.
In short stories it is often difficult to have many well developed characters, and Ms. Bryan has done a good job with these characters. It has been a couple of weeks since I read this book, and I still think of the different people who live in Cumberland Creek.
This story was believable and addressed the human rights problem of immigrants being taken advantage of, in order to come to the U.S.A. so that they can have opportunities for a better life. I appreciate the way this topic was smoothly tacked into the story.
As a genealogist, I learned some valuable tips for preserving family history, and will always count it as a bonus that I read
Scrapbook of the Dead
View all my reviews