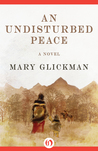 An Undisturbed Peace
by
Mary Glickman
My rating:
5 of 5 stars
I received
An Undisturbed Peace
, by
Mary Glickman
from Open Road Integrated Media, Inc. via NetGalley. This is an ARC - Kindle Edition.
Now that I have finished this remarkable novel, I have been pondering the title. During the course of this story, as with history, many have their lives ripped from them. Individuals, families and Nations suffered in terrible and violent ways.
"Who, who I want to cry, comes through this story with an undisturbed peace?" Are the new settlers at peace? Is President Jackson who orders and carries out the removal unruffled? What of those who profited when the Choctaw, and Cherokee move into Oklahoma territories.
Is it the Jewish peddler, our main protagonist Abraham, who keeps his peace as he wants?
Before he takes wife Hannah, he carries on finding his way in this new nation. He gets what he wants. He faces some anxiety, and stabs of guilty conscience. Maybe it is Abe that the title speaks to.
I enjoyed dialogue between Marian (Dark Water) and Abraham Bento Sassaporta Naggar. It was if Abe could not stop his honest thoughts from popping out of his mouth.
The horrors about the Trail of Tears can easier find delivery through the vehicle of fiction.
Mrs. Glickman's research is extensive. The story teems with accuracy.
If you enjoy early American historical fiction, this is an excellent book to read.
View all my reviews